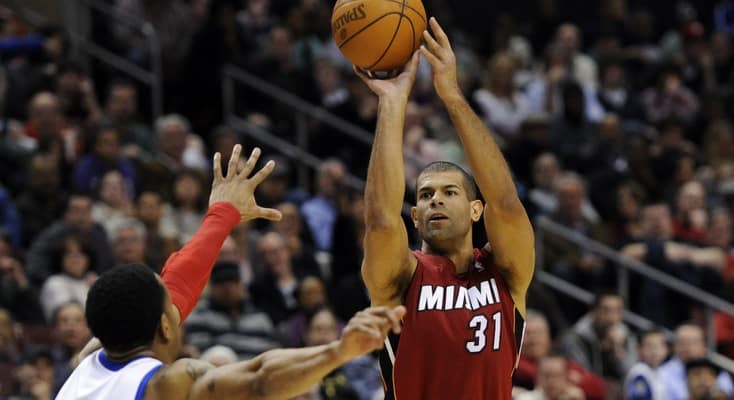 Achieving Greatness through Teamwork
Shane Battier's season—and career—ended last weekend in a solemn locker room with emotions he wasn't expecting.
Battier's Miami Heat had just lost to the San Antonio Spurs in the NBA Finals. For Battier, this swan song of his career didn't allow him to hold the championship trophy, but he did pick up a piece of hardware that spoke volumes about the years he's played and what so many of his colleagues think of him.
Battier is one of my favorite players in the NBA. He possesses a grittiness in his defensive play that has consistently fascinated me throughout his thirteen-year career.
During the NBA Playoffs, Battier was presented an award that I did not even know existed—the Twyman-Stokes Teammate of the Year award—which is voted on by NBA players themselves. The award recognizes an ideal teammate who has demonstrated selfless play, dedication to his team, and leadership as a mentor and role model to other NBA players—on and off the court.
The award is named after Jack Twyman and Maurice Stokes, teammates on the Rochester Royals and Cincinnati Royals through the 1950s. Because of a career-ending head injury in 1958, Stokes was left paralyzed, in need of personal and medical care, and with no one available to help him. Twyman, his faithful teammate, then made an incredible decision: He became the legal guardian of Stokes, caring for him and helping raise money for his medical bills. The trophy depicts Twyman helping Stokes up from the court.
I thought this award was an exceptional acknowledgement for Battier. Recently, the New York Times featured a story on the Miami Heat, and Battier was asked about how he fit into the system. "We're all role players," he said. "Some of the roles are to sell $2 million worth of shoes. Some of the roles are to get loose balls and cheer your teammates on. But every role is essential for the success of this team."
The truth is, everyone has focused on the Big Three for the Miami Heat—LeBron James, Dwayne Wade, and Chris Bosh—so it is easy for players like Battier to be overshadowed. Say what you will about the Heat's superstars, Battier has been a productive teammate in each of the team's four straight playoff runs, which led to two NBA championships.
"I would like for people to remember me as a guy who always made his team better. A guy who gave it his all and played to win," Battier said in a CBS Sports article.
Battier likely learned everything he needed to know about being a good teammate as a Duke Blue Devil, while playing under the guidance of Coach Mike Krzyzewski. In my interview with Coach K on establishing a culture of Greatness, he said, "Our culture is value based, and consists of trust, honesty, working together, loyalty, hard work, care, and collective responsibility. All these things have been the same over my three decades at Duke." (Click here to see the top 3 things Coach K had to say about building a winning culture).
The most successful teams all have one characteristic in common: exceptional teamwork. An efficient and effective partnership between players and coworkers can lead to consistent victory. Being a Great teammate is sometimes difficult, but anyone can start the process today. If you are persistent in your effort, selflessness, and commitment to the goals of the organization, then you are lining your team up for Great victory.
Take some time each day to encourage a member of your team. Or, if you see a need that must be met, then take the initiative and fill that void. Small gestures like these can go a long way in creating an atmosphere of unity. Like Battier said, each role on a winning team is essential.
Who on your team would win the Twyman-Stokes trophy? Hit reply and leave me a comment, or contact me on my Facebook page. I'd like to hear from you!
If you liked this post, please consider sharing with friends and colleagues by using the share buttons below—that's what a Great teammate would do!
Tags: Chris Bosh, Do Unto Others, Dwayne Wade, Great for the Business Leader, LeBron James, Miami Heat, Mike Krzyzewski, NBA Finals, San Antonio Spurs, Shane Battier, Subscriptions, teammate, teamwork, The Ultimate Teammate, Writing