Dolf Berle, Topgolf CEO, Asks: Do You Practice Courage?
Episode 1
In this heartfelt conversation, you will learn how to overcome self-doubt, shorten the life-cycle of failure, and be a brave leader through incredible stories of Dolf's track and field experience at Harvard and beyond. Athletically, applying these leadership lessons led him to the Pole Vaulting World Championships and the set of American Ninja Warrior. Corporately, his pole vaulting motto "choose to be brave before you start" shaped his two decades of C-Suite experience, including serving as the COO of Diedrich Coffee, COO of House of Blues Entertainment, President of Lucky Strike Lanes, President, and COO of Dave & Buster's and now CEO of the popular sports entertainment company Topgolf, where he oversees 20,000 employees in 25 countries.
In the first half of Don Yaeger and Dolf Berle's discussion, Dolf opens up about one of the most emotional moments in his family's life. In the second half, he reveals the most difficult moment of his corporate life that took place after the September 11th attacks.
Culture is created by design or default. Use these best practices from Episode 1 to DESIGN your company culture.
This week's action items
---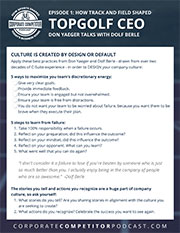 You Will Learn:
4:00

 The lasting impact of his Harvard coaches.

7:15

 How to improve your mental strength and courage.

11:00

 How Dolf finds strength and joy in the midst of post-traumatic stress.

13:45

 How to overcome self-doubt.

15:30

 A behind the scenes look into the American Ninja Warrior experience.

19:00

 Dolf's most challenging moment as a CEO and how he continues to draw strength from it.

24:00

 How to shorten the length of a failure.

27:00

 How to prioritize family and philanthropy in a C-suite role.

29:00

 The little gift he gives to encourage others.
Resources:
---