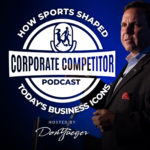 Matt Karst, Synnex Sales Leadership, asks: Are You Building a Powerful Network the Right Way?
Episode 16
Synnex's Matt Karst brings more than 30 years of experience in the technology industry leading successful sales organizations. Through trials, including a season-ending baseball injury, and an emergency heart surgery, he has learned that his attitude governs his altitude. You will learn the power of a recommendation through the story of his Miami recruitment, and Matt's 11 Ground Rules so that you attract trustworthy teammates that listen more than they speak.
---
You will learn:
10:00

 The impact of thanking your childhood coach.

20:00

 University of Miami's baseball culture under Coach Ron Fraser.

25:30

 How to keep your team positive during friction and transition.

28:00

How to create camaraderie after a loss.
---
Download Matt's 11 Ground Rules of Success Bookmark

---
Resources:
---