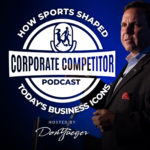 Louis Carr, President Of BET Media, asks: Can You Overcome Two Pandemics?
Episode 2
Louis is responsible for more advertising dollars targeting African-American consumers than any other professional or company in history. And he put those dollars to good use… he has led an incredible 21 straight years of advertising revenue growth. His athletic accolades are as impressive as his corporate success. Louis was the co-captain of the 1974 State Champion Track Team at Lane Technical High School in Chicago and was awarded a four-year track scholarship to Drake University. In this episode, you will discover how he uses the lessons from the track in his leadership today.
---
You Will Learn:
4:00

 How to set strategic goals.

13:00

 How Louis' track and field teammates rallied around him after he experienced racism at a young age.

17:00

 A behind the scenes look at what it was like to be coached by Olympian Wilma Rudolph.

17:30

Success includes three components: RAW TALENT, WORKING HARDER THAN EVERYBODY ELSE, and REFINEMENT of physical, mental, and emotional mechanics.

29:00

 How building a team with diverse backgrounds can accelerate your growth.

40:30

 The lessons you can take from all of your teammates, even if they are younger or new to the team.
Resources:
The 8 questions you need to ask yourself so your goals have greater impact:
How am I showing up that will motivate people, not only internally but externally?
How am I helping my teammates grow?
How am I helping others be greater as a person, have I made someone's day recently?
What am I doing for my local community, for the world?
What am I doing to help the next round of leaders in this company?
What am I doing for the next generation of aspiring leaders as a whole?
Who coaches me? Who examines at me from the outside-in?
What am I learning FROM the young people in my office (not just giving to them)?
Download the Greatness Bookmark

---