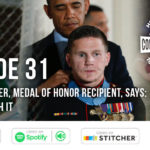 Kyle Carpenter, Medal of Honor Recipient, says: You Are Worth It
Episode 31
In my 30 years as an author and storyteller, many people have asked, "What is your favorite story you've had the opportunity to tell?" Without question, it is the story of Kyle Carpenter.
On November 21, 2010, Carpenter, a U.S. Marine Lance Corporal, was posted on a rooftop in Afghanistan when a Taliban grenade landed between him and a fellow Marine. Without hesitation, Carpenter jumped on the grenade, saving his best friend but sacrificing himself. After flatlining three times, undergoing 41 surgeries, and spending three years at Walter Reed Medical Center, Carpenter ran the Marine Corps Marathon. "The more I fought for my future instead of against my past, the more I realized that there wasn't just life for me on the other side of this – there was life for me in the middle of it," he said, "The smallest of steps eventually completes the grandest of journeys."
In 2014, he became the youngest living recipient of the Congressional Medal of Honor, our nation's highest military decoration.
I had the unbelievable honor of sharing his story in his book, "You Are Worth It." That title is the response he gives when someone thanks him for his service, "You are worth protecting, you are worth fighting for, you are worth time in a hospital bed and deep scars on my body," Carpenter said.
Corporate Competitor Podcast's month celebrating military leaders would not be complete without Kyle's power of perspective.
---
You will learn:
 5:30 

 The day President Obama called Kyle.

 7:00 

 Why the Medal of Honor was a gift to the Carpenter family too.

12:00

 How to look at life like a beautiful "bonus round"

21:00

 Leadership lessons he learned from football coaching styles.

32:00

How to achieve breakthrough from your struggling.
---
Resources:
---