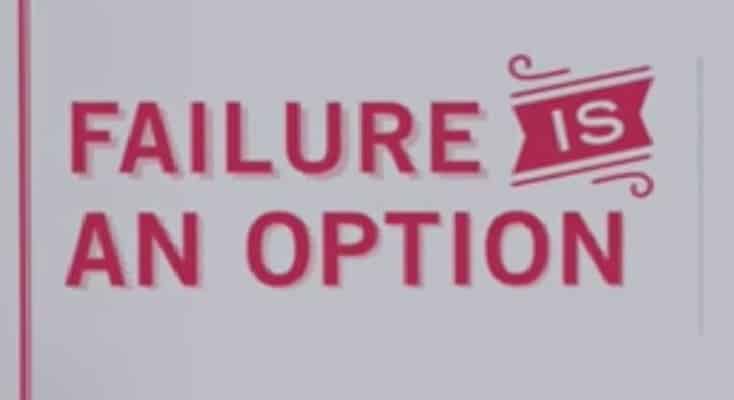 Failure is an option
If you are a sports fanatic, like me, then you'll agree that this time of year is a sports fan's dream.
There are a multitude of high profile events that can satisfy anyone: the French Open, NBA Finals, Stanley Cup Playoffs, and much, much more. Since I am not much of a commercial guy, I rely on my DVR to help me speed through my programs. But lately, I have discovered a commercial that was strong enough to make me press replay—and I love its message.

In the commercial, Domino's Pizza shares their philosophy that "Failure is an option."

Yes. You read that correctly. Failure is an option.

As a daily reminder for their employees, the company has those words posted on a large sign within their corporate offices.

Failure is an option—think about that for a moment. Usually in life and the business world, we are reminded by our peers, superiors, and our professional culture that failure is not an option. Domino's proudly takes the opposite position.

To quote Domino's executive vice president of franchise operations and development Scott Hinshaw, "In order to get better, in order to move ahead, you're going to make mistakes."
During the commercial, Domino's reminds viewers that the company has failed: remember the cookie pizza? However, they do not lament in their bad decision. They acknowledge the failure in a humorous way, and also admit that it has not stopped them from moving forward.
The entire message that failure is an option is exceptional. No one wants to face disappointment after they have given their best, but the truly Great do fail sometimes because they are trying. If we are willing to be creative and unique, then at some point we are going to fail…and that's okay.
Just as Domino's failed with their cookie pizza, the point was that they at least tried it. Success is built upon the willingness to try something new. You cannot play the game so conservatively that you never fail.
When I saw this commercial I immediately thought of former college basketball head coach John Wooden, who led the UCLA Bruins to ten national championships. Coach Wooden was one of the Greatest winners of our time, and he used to say, "If you're not making mistakes, then you're not doing anything. I'm positive that a doer makes mistakes."
This advice is antithetical to what we commonly believe. Many would think that success means never having made a mistake, but perfection does not always equal success. Even in sports, when you don't commit turnovers you're not playing aggressively enough, or you're not attempting to try something new.
I never knew Coach Wooden to order a pizza for delivery, but I would bet if he had seen that commercial, he'd probably call Domino's. You have to be a risk-taker, and you have to be willing to fail in order to achieve truly Great success. It's better to take the challenge and risk the occasional failure than to never take a chance at all.
Have you ever taken a chance that ended in failure? What were some of the valuable lessons that you learned? How did that experience shape you for future success?
I'd love to hear your story. Tell me on Facebook, or post a comment here!
Tags: Business, Chasing Greatness Blog, Domino's Pizza, Failure, Inner Fire, John Wooden, Risk Taking, Subscriptions, Success, When All Else Fails, Writing