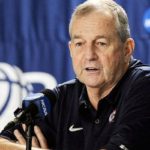 Former UConn men's basketball coach Jim Calhoun on why Culture was important for his team.
Former Utah Jazz Head Coach Jerry Sloan on coaching John Stockton & Karl Malone.
Former San Antonio Spurs small forward Bruce Bowen on the importance of discipline in building championship teams
NBA Legend Jerry West on key ingredients for building a great team.
Baltimore Orioles Legend Cal Ripken Jr. on his approach to a lengthy career
Former FSU football coach Bobby Bowden on sustaining a winning culture and coping with losing a game