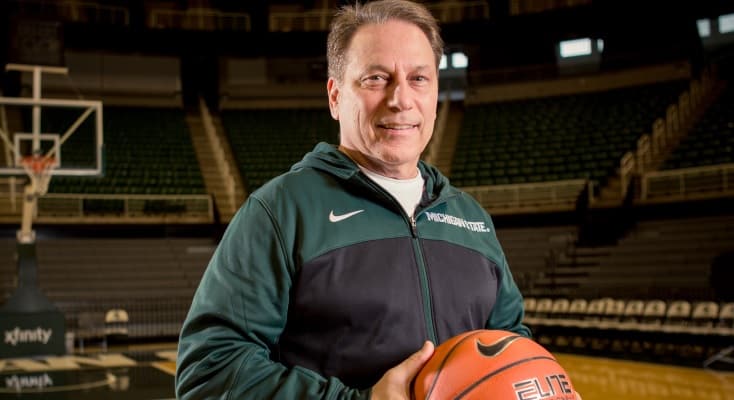 Izzo Puts Great Focus on Family
The Thanksgiving holiday quickly pauses our daily workload and puts the focus on family and friends.
Sentiments of love and Great memories away from the workplace are usually accompanied by an overindulgence of food, sporting events, and the inevitable afternoon nap. Somewhere in the midst of it all, there are acknowledgements of being thankful.
There's no question that in the college basketball world, Michigan State University is thankful for a rich tradition full of star athletes and highly recognized leadership. While the Magic Johnson days of Spartan basketball are a distant memory, it should surprise no one that MSU remains at the top of the college basketball conversation – ranked No. 1 overall in the Associated Press Top 25 Poll. Current head coach Tom Izzo has consistently pushed his Spartans to the limit and produced great results. While there are a number of factors that have led to more than 430 victories in Izzo's 18 year coaching career, there's one ingredient that stands out to me—accountability.
During a recent visit to East Lansing, MI, I sat down with Coach Izzo and discussed his thoughts about truly building a culture of Greatness. I wanted to know how he has been able to put his stamp on Michigan State's basketball success.
"A player-coached team is better than a coach-coached team," said Izzo as he grinned knowing, by the look on my face, that he'd get the chance to explain further. He did just that.
I was impressed by how Izzo established a connection with certain star players to the point where they reinforced his message early and often with each new season. Players like Magic, Steve Smith, Shawn Respert, and Mateen Cleaves would still return to campus, seeking out current players to offer advice and place expectations nurtured by the MSU basketball culture.
But that accountability model wasn't just relegated to the players and former players. Izzo's culture placed that responsibility on the parents of the players as well. He understood that external forces could be counterproductive to laying a solid foundation. In an effort to get a total buy-in from his team, he focused some of his energy on the mothers, fathers,and legal guardians.
Izzo would hold a non-player meeting with his team's family members and get them to commit to helping their athlete achieve success on the court and in the classroom. They would commit to supporting Izzo's coaching methods and discipline even if it meant their son would be directly impacted. That reinforcement on the court and at home created a culture where all parties clearly understand the values of the program, and the consequences and rewards of certain actions within the culture.
It's an amazing lesson from Izzo. You can't lead without truly understanding the external influences of the people you are leading. Knowing what other circumstances could be directly affecting your team's performance is key to unlocking Greatness. As you enjoy the holiday season, consider how the "family focus" can be a positive factor in your work life.
What do your employees or co-workers value most? Have you ever thought about how a co-worker's family life might be a factor in their performance — positive or negative? In what way have you considered outside influences when holding your team accountable? Visit my Facebook page, and as always, join the conversation today!
Tags: But, Chasing Greatness Blog, Family, hope for the best, Magic Johnson, Mateen Cleaves, Michigan State University, Rubbing Elbows, Shawn Respert, Spartans, Steve Smith, Subscriptions, Success, The Ultimate Teammate, Tom Izzo, Writing