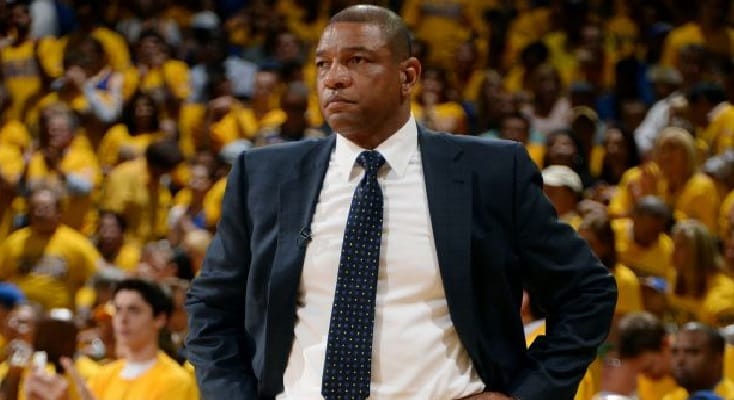 Made for the Moment
I wish the guy would just go away. But sometimes in a moment like this you see something Greater than the story, and what I saw in Los Angeles Clippers head coach Doc Rivers was a man made for the moment.
Great leaders rise in challenging times. Our experiences shape our perspective on life, and Rivers is living proof of this.
In 1997, Rivers had just retired from a 12-year playing career, his final team was the San Antonio Spurs. He had just started as an analyst for TNT. He was on a golf course in Seattle playing in a charity tournament when he received shocking news: The San Antonio home that he shared with his wife and four children was on fire.
With his family in Milwaukee visiting relatives, Rivers raced back to San Antonio. When he arrived, the fire had consumed everything—priceless memorabilia from his professional career, personal possessions, even family pets—all of it had been destroyed. Police determined that the arson was racially motivated.
In the weeks and months following the loss of his home, Rivers handled himself with exceptional poise. He told his children that the fire was a life lesson—and to not make the mistake of hating one group for the horrible decisions of a few.
Without a doubt, Rivers' experience has molded him as the perfect model of unshakable strength in handling the Donald Sterling controversy.
In recent days, Rivers and his players have expressed silent outrage over Sterling's remarks. While the general public has remained focused on the players and Rivers, the 70 staff members from the Clippers' Staples Center offices have been primarily handling the public backlash. The staffers had to work through angry phone calls and emails from irate fans, and were labeled "sellouts" and "Uncle Toms." Not surprisingly, staff morale reached an all-time low in the days after the Sterling scandal broke.
Rivers learned of the discontent within the Clippers front office the same day the Clippers lost Game Six of their first-round playoff series to the Warriors. After a post-game flight back to Los Angeles and studying film of Game Six until 4 a.m., Rivers decided to do something truly Great—he contacted the human resources director of the Clippers to organize a meeting with the front office staff that morning.
Rivers battled through his own fatigue and emotions, and showcased the thoughtfulness he is so well known for to the Clippers organization. On a day when he could have been completely engrossed in preparing for Game 7—speaking with guards, forwards, and centers—Rivers was encouraging janitors and ticket salesmen. He wanted to let them know that he had their back.
In a recent interview with the Los Angeles Times, Rivers said motivating the staff was "far more important" than resting and preparing for Game 7.
Truthfully, Rivers did not have to extend this gesture. No one would have blamed him if he'd told the Clippers staffers to toughen up—but he was made for the moment. His experiences have prepared him to be able to handle the controversy his organization is currently going through, and to emerge from it with genuine class.
Rivers and the reinvigorated Clippers went on to win Game 7 against the Warriors the very next day, 126-121. In an ESPN interview on Sunday, Rivers called the scandal a distraction that his organization had to work though.
Have you ever seen someone made for a moment? Is there somebody that you know or admire, in history or in your own life, who has risen to the occasion during a difficult situation? Send me a note and let's connect. I'd love to hear about the person you believe was made for the moment.
Visit my Facebook page and, as always, feel free to join the discussion today!
Tags: Chasing Greatness Blog, Contagious Enthusiasm, Do Unto Others, Doc Rivers, Donald Sterling, Great for the Business Leader, Los Angeles Clippers, Rubbing Elbows, The Ultimate Teammate