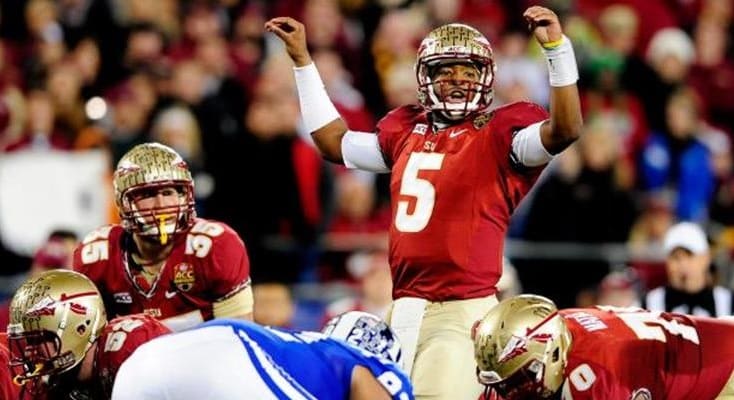 Post Game Greatness
I don't believe anyone is a natural born leader; some people – because of the lessons they've learned and the people that have been there to teach them – just learn how to lead faster than others.
The process of learning how to become a Great leader absolutely fascinates me. You can imagine my amazement when I watched a post-victory interview last weekend conducted by ESPN reporter Tom Rinaldi with 19-year-old Jameis Winston, the starting quarterback for Florida State University.
Winston and his teammates had just defeated the University of Miami 41-14 in front of a stadium of 84,000 fans, and a national TV audience. The redshirt freshman from Hueytown, Ala. had also thrown 2 interceptions during the game—marking his first struggles practically all season. Rather than sulk about his mistakes, he let his smile say it all.
"I gotta keep a smile on my face," Winston told Rinaldi. "And the players, they feed off that because they like when I have a smile on my face. When I threw those interceptions, I still had a smile on my face even though I messed up. But they just gotta see that. They gotta see my maturity and they gotta see that we can do it all the time."
Winston knew that the manner in which he reacted to his first taste of adversity would have a direct effect on his teammates. He recognized that his position on the team actually positioned him to have the biggest impact. Had he buckled under the pressure, hype, or errors, the team likely would have suffered defeat.
The truly Great leaders realize that their reactions during tough times have the power to be either a stopgap or a breached levy. Their reaction can galvanize a team and turn momentum in their favor. Their reaction can also create panic, dissention and confusion on a team—ultimately leading to failure.
At age 19, Winston gets this characteristic in something as simple as a constant smile. He knew the older players would look at the way he returned to the sidelines after momentary failure. Winston also understood that his younger teammates would look at his demeanor as a gauge for how they should respond after making mistakes in pressure situations. It's fascinating to see such a young person not just garner the attention that comes with being a star player on the second-ranked team in college football, but also learn what qualities are needed to truly lead.
What message do you send your co-workers when faced with challenges? Do you lead with a smile, or do you yell and point blame? Are you learning to become a better leader for your company, or are you solely focused on doing your job? Visit my Facebook page and, as always, feel free to join the discussion today!
Tags: Chasing Greatness Blog, Contagious Enthusiasm, ESPN, Florida State University, Ice in Their Veins, Inner Fire, Jameis Winston, Subscriptions, The Ultimate Teammate, Tom Rinaldi, University of Miami, When All Else Fails, When Everyone is Watching, Writing