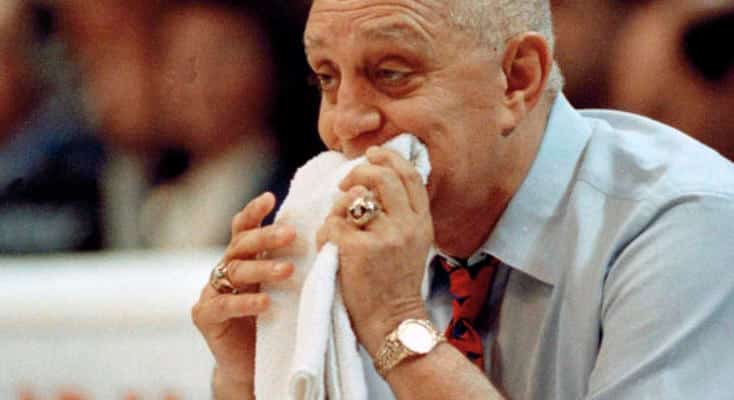 Recognizing Your Hall of Famers
Should you ever have an opportunity to attend a Hall of Fame ceremony—of any kind—make sure you go!
Trust me, it just might change your perspective on thanking others. Last month's Naismith Memorial Basketball Hall of Fame ceremony honored some of the Greatest minds ever to be associated with the sport. It was a 2013 enshrinement class decorated with Olympic medals, NBA Championships, NCAA Titles, and more than 3,000 coaching victories.
As a guest of former UNLV legend Jerry Tarkanian, I had a front row seat as "Tark" and others, like current Louisville head coach Rick Pitino, took their place in Hall history. And while the ceremony was ripe for emotions and celebrations, I couldn't help but view it as a bittersweet moment. Whereas Pitino could walk up to the podium for his time in front of his peers, Coach Tarkanian, a friend whose book I authored 20-plus years ago, was relegated to a wheelchair. In fact,another honoree, former Houston coach Guy Lewis, was also wheelchair bound, unable to stand and receive his long-overdue hardware. Because of age-related illnesses, neither of them could speak.
The gravity of that moment hit me. Here we were honoring icons for their incredible work and highlighting moments from the peak of their respective careers, but some of them couldn't even enjoy it fully. The lesson for me is that it is possible to wait too long to give someone his or her proper recognition. Coach Tarkanian won more than 990 games, was a four-time National Coach of the Year, won the 1990 NCAA Championship, and molded 44 NBA players during his tenure that included 12 First Round Draft Picks. And there he sat quietly in his wheelchair as these amazing accomplishments were dribbled off one after another. I could see glimpses in his eyes of the passion that once pierced through college basketball arenas, decimated opposing teams postseason chances, and left teeth marks in cotton towels across the country; but I could also see that his age and health limited his ability to fully embrace the moment. There's no question how incredible Tark's celebration, smile, and speech would've been just a few years ago.
It was still an unforgettable weekend, but it also demonstrated a Great lesson. Sometimes—myself included—we wait too long to honor our Great ones.
We all have had Hall of Famers in our lives, but did we only recognize their Greatness long after their impact? Great leaders may be present in your everyday landscape; just think of how much more enriching the give-and-take would be if we did a better job of realizing them sooner rather than later.
Who should you reach out to and recognize today? Visit my Facebook page for more content, and as always, I invite you to join the discussion today!
Tags: Chasing Greatness Blog, Do Unto Others, Guy Lewis, Jerry Tarkanian, Naismith Memorial Basketball Hall of Fame, NCAA, Rick Pitino, Rubbing Elbows, Subscriptions, The Ultimate Teammate, UNLV, Writing