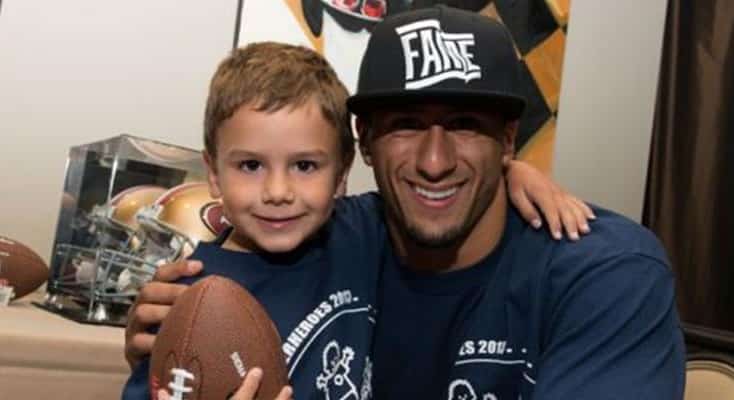 Simply Kaep-tivating
For the past 30 years–as a journalist and author, I've had the chance to cover some of the greatest athletes in the world.
I've been fortunate enough to interview Michael Jordan, Muhammad Ali, Lebron James on numerous occasions along with other legends like Walter Payton, Shaquille O'Neal, Jerry West, and Bobby Bowden. It's rare that I watch a game during an NFL Sunday and find a player that makes me say, "I really want to interview that guy."
Well—I found one. San Francisco 49ers quarterback Colin Kaepernick is that guy. His 2012 NFC Championship season not only established him as a great quarterback, but he looks like an equally amazing person. His journey to stardom seems almost as movie-worthy as another football player I was fortunate enough to write a book about–Baltimore Ravens Pro Bowler Michael Oher. My experience with Oher gave me a window into his life with adoptive parents and his love for helping kids. Kaepernick, from what I gather, is another amazing advocate for kids as displayed by his recent visit to a Ronald McDonald House in California.
I remember spending time with Tom Brady the night after the Patriots won the Super Bowl and learned more about what makes him go. I lived with Walter Payton for the last few months of his life while writing his book. Both football heroes had relentless motors that unlocked greatness and fame. But I am also fascinated by how Kaeperick has handled the fame that has come his way. Growing up in Wisconsin, he didn't have the celebrity profile that others did. In fact, until Jim Harbaugh made the decision to play Kaepernick instead of Alex Smith, all I knew about the guy is that he went to Nevada and had some potential. But in his first year as a starter, he lead the Niners to the Super Bowl. This year, he struggled at first but has now come into his own again.
When I get the chance to talk to Kaepernick, I'm not going to talk about football, I want to know how he's able to perform at such a high level with so many critics. I want to know how his childhood paralleled my friend Michael Oher and what he has learned from that experience. I want to find out what motivates him to do what he does off-the-field. Many athletes say they want to spend time with kids—Kaepernick does it. Just ask the folks at Camp Taylor where he dedicates time and money with no recognition.
As the story goes, Kaepernick got involved with the camp because the Kaepernicks had two infant boys die because of heart defects. Colin always told his parents he would donate money to help kids with heart defects—but he hasn't just donated money, he's donated time. And not just time—real time. Many athletes swing by, take pictures and leave. Colin genuinely enjoys his time with the kids as evident by all the pictures I've seen on social media. His golf tournament raises money for these kids—it's obvious his heart is truly in it.
So why does Colin Kaepernick care so much about kids? Where does he find the time and dedication when so many athletes fail to do so? There are a lot of reasons why I'm impressed by Colin Kaepernick and I think we've only seen a flicker of his star. I can't wait to see him hoist a Lombardi Trophy one day. Not only will cement his place in the NFL, but it's evident that it will mean a lot of things to a lot of people.
Tags: Chasing Greatness Blog, Colin Kaepernick, Michael Oher, NFC Championship, NFL, Rubbing Elbows, San Fransisco 49er's, Subscriptions, The Ultimate Teammate, When Everyone is Watching, When No One is Watching, Writing