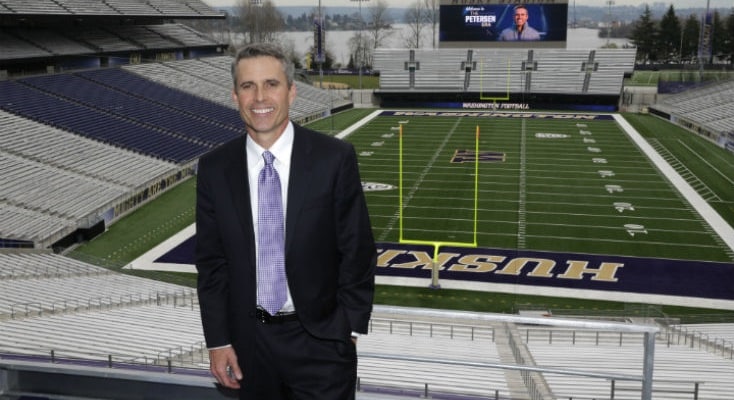 The Grass Is Not Always Greener
With college football now officially underway, the current season will be full of rivalries, upsets, and incredible plays by successful teams.
But behind every Great team is a talented coach, and there are few coaches who have had the success of Chris Petersen of the University of Washington Huskies—who taught me a valuable lesson about career advancement.
I had a chance to work with Petersen for the Make-A-Wish Foundation book Wish Granted: 25 Stories of Strength and Resilience from America's Favorite Athletes. I became fascinated by his leadership skills and his opinions on the progression of life. When we met, Petersen was still head coach at Boise State, had recorded two undefeated seasons, and had reached the Bowl Championship Series twice—completing one of the Greatest runs in college football history!
During his years at Boise State, Petersen was offered many head coaching jobs from other well-known programs. Though many of the offers were tempting, he consistently turned them down. During the Washington Huskies media day this year, Petersen was asked why he passed up on these opportunities, and he simply answered, "The grass isn't always greener."
This statement revealed a lot about Petersen's character. He understood that life was not a sprint but a marathon, and that it was important to look at his career the same way. Petersen was not looking to sprint to the next good job, but he was looking to find the job that would allow him to continue the marathon.
"We're such believers in the process," he said in an interview with the Seattle Times. "That's the secret sauce. Everybody has their way, but if you can stick to your way, your guns, your belief, your principles and not get derailed, I think you're going to have success."
---
[tweetthis url="http://donyaeger.com///the-grass-is-not-always-greener/"]The Great ones live their lives with integrity. They are comfortable in their own skin.[/tweetthis]
---
Petersen remained focused on the principles and culture that had been established at Boise State, and he was not about to depart the moment he received a more lucrative job offer at a flagship football program. He wanted to leave for the right reasons, and the best opportunity for him and his family. In an interview, Petersen told me that he made the move to the University of Washington because it was a place poised to do what he had already done over the years at Boise State—which was to establish an effective, winning culture…the right way.
Clearly, this was not an easy choice, but Petersen's thoughts on career advancement fascinated me. We live in a workforce culture where many employees expect instant gratification within their jobs when truthfully, success is a learned and gradual process. Too many people leave jobs too quickly to go to other jobs they think are better for them, rather than growing and developing where they are. Too often we all seem to be in a rush. The truly Great in sports and business are the best because of their consistency, trial and error, and steady growth in their roles. You don't have to leave your organization in order to advance your career…you can grow where you are, and chart your own destiny!
---
[tweetthis url="http://donyaeger.com///the-grass-is-not-always-greener/"]The Great ones know that true growth takes time.[/tweetthis]
---
I'll be rooting for the Washington Huskies this year, and I'll be hoping that the grass is the proper shade of green for Petersen when the season ends.
Have you ever turned down a job offer and realized later how bright the decision was? Like Petersen, have you been able to find success by growing where you are?
I'd love to hear your story. Leave me a comment!
Tags: Boise State, Career Advancement, Chasing Greatness Blog, Chris Petersen, Huskies, Not Just About The Benjamins, Professional Growth, Subscriptions, University of Washington, When No One is Watching, Writing