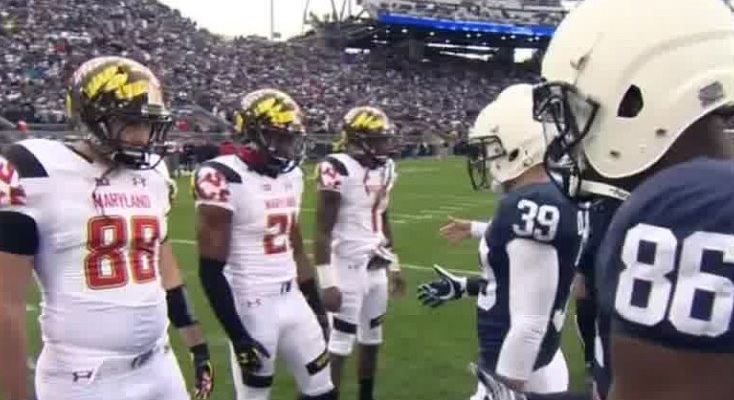 What Greatness is NOT: Maryland at Mid-field
Over the last five years, I have written over one-hundred and fifty blogs and newsletters about Greatness—the imperceptible things that make the best athletes and leaders dramatically different from their peers. This past weekend, I saw what it wasn't.
One of the most "sacred" events in collegiate and professional football is the exchange of handshakes of team captains after the coin toss. It is tradition to show a moment of sportsmanship and extension of camaraderie to your opponent. During the game the players will hit and play hard, but it is always good to open this battle respectfully.
Shortly before kickoff of the Penn State and Maryland game last Saturday, in a choreographed moment, the four Maryland captains refused to shake hands with their Penn State opponents. It was as embarrassing a moment as you'll see in sports. Again, this was not over a controversial play or a touchdown celebration…it was done in spite and to get a rouse out of Penn State and their fans.
This week the Big Ten announced swift punishments for Maryland after their 20-19 win over PSU by publicly reprimanding Coach Randy Edsall for failure to control his team before the game, and fining the university $10,000.
---
[tweetthis url="http://donyaeger.com///what-greatness-is-not-maryland-at-mid-field/"]The Great ones respect and appreciate their opponents, for without them there would be no opportunity to chase greatness![/tweetthis]
---
Now don't get me wrong, I love to trash-talk with the best of them…especially when I'm playing basketball. However, some moments should be respected. Good sportsmanship is an opportunity for players to bond, not make a statement. I can't imagine walking into a business meeting and doing what those Maryland football captains did. For sports fans, our favorite teams and athletes are our models for success in our lives. We look to sports to learn lessons that can help makes us better, not divisive. As those four young men move forward from this moment, I hope that they never walk into another game, event, or meeting and try that again.
---
[tweetthis url="http://donyaeger.com///what-greatness-is-not-maryland-at-mid-field/"]Great winners don't make the moment about them…it is always about the game, the team.[/tweetthis]
---
To their credit, Penn State's captains handled the snub with class and went on to play a Great game. I was rooting for them. Sadly they didn't win, but what impressed me the most about their team was that at the end of the game, they came across the field to shake hands with the Maryland players—despite what happened at the coin toss. Penn State showed class from start to finish. The suspension and fine that the Big Ten gave to Maryland is a reprimand enough, but I hope that the Greater lesson taught to those players is that some moments are sacred. Sportsmanship should be observed by all. Like Penn State, we must always strive to be better and not bitter.
Do you have a story about Great sportsmanship? Share it with me. I'd love to hear your experience.
Tags: Big Ten, Chasing Greatness Blog, College Football, Do Unto Others, Maryland, NCAA, Penn State, Sportsmanship, Subscriptions, When Everyone is Watching, Writing