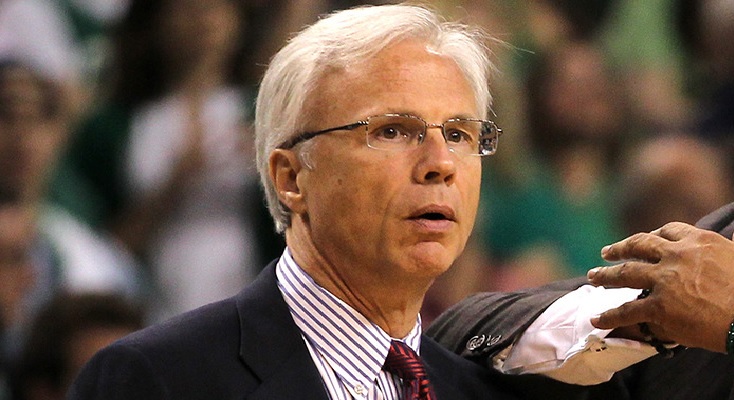 "What-if Moments" and "Bite-Sized Goals" – Kevin Eastman's Keys to Success
The NBA regular season begins this week, and we are in for an incredible season of exciting play from spectacular teams.
But behind every on-court team…is a talented team of staff, and there are few individuals in the league as progressive as Kevin Eastman, former assistant coach and current Vice-President for Basketball Operations of the Los Angeles Clippers. Over dinner recently, Eastman taught me several valuable lessons on leadership, strategy, and planning for the worst in order to achieve the best and I am excited to share them with you.
Prior to his promotion, Eastman served as an assistant coach to Doc Rivers at the Clippers and Boston Celtics. He is recognized as one of the best basketball clinicians in the world. His game-preparation and strategies are top-flight and his strategic experience and knowledge of how some of the top professional teams in the nation behave grant him valuable insight into knowing what makes the Great ones truly Great.
When Eastman was an assistant coach, one of his responsibilities was to think through and plan for "what-if moments" that would simulate dire circumstances that the Clippers could face during the regular season and playoffs. What if they were down by two, with five seconds left on the clock, and they had to inbound the ball? What if the team depended on free throws to win the game? What if Chris Paul or Blake Griffin were injured during an intense playoff series? With these "what-if moments," Eastman would run the team through one worst-case scenario after the next, so that they'd be prepared if it ever occurred.
And he would do all this from the season's very first practice! He wouldn't wait to develop and practice a fourth quarter strategy in the fourth quarter…he did it from day one!
Eastman also championed setting bite-sized goals and celebrating them as a team. During a timeout or game break, he'd set small goals for each player—from picking up rebounds, scoring a few points, or getting a steal—which would cumulatively result in cutting a deficit or taking the lead in the game. "If you look up and the scoreboard has you down by 20, that's tough to see you coming back," Eastman said. "But if I ask you to grab me three rebounds by the next timeout and ask your teammate to score two baskets and a third teammate to get two defensive stops, that's manageable." When players would complete their bite-sized goals, Eastman encouraged them all to celebrate the goal in order to keep the team motivated.
---
[tweetthis url="http://donyaeger.com///what-if-moments-and-bite-sized-goals-kevin-eastmans-keys-to-success/"]Great leaders set bite-sized goals in order to accomplish a larger task.[/tweetthis]
---
Eastman's new, primary role with the Clippers will be supervising day-to-day operations of the front office as head coach Doc Rivers focuses on molding the Clippers on the court. Aside from his VP duties with the team, Eastman has emerged as a leadership expert among coaches. He annually co-hosts the most engaging coaching clinics in America, sharing skills and motivation with his peers from high school to the NBA.
During one of those clinics, Eastman offered a piece of advice that I thought would be GREAT for all of us. He told me that during his speech, he'd tell the paying audience members that he attended a different clinic the night before that would "put today's event to shame." (Remember, they paid HIM to sit there and listen to this!)
"For one hour I got to listen to Phil Jackson, Pat Riley, and Mike Krzyzewski," Eastman told the crowd. "And while you're sitting in those uncomfortable chairs, at last night's clinic I sat in a recliner.
"By the way, that clinic was all online. I was watching speeches on leadership that those great coaches had given on YouTube."
Eastman would later tell the audience that he appreciated that they were present to hear him speak, but that they could all attend free clinics every night from the comfort of their own homes…if they were willing to set aside the time and dedicate themselves. As I listened to him, I realized that Eastman was right; some of the most amazing presentations that I've ever seen have been over the internet. There is a treasure trove of wisdom that is available to us all— if we are only willing to seek it out and commit to absorbing the messages.
---
[tweetthis url="http://donyaeger.com///what-if-moments-and-bite-sized-goals-kevin-eastmans-keys-to-success/"]Great leaders are Great learners…they take time to learn from others.[/tweetthis]
---
Eastman's goal-setting examples and leadership lessons fascinated me. He believes anyone has the chance to be successful by being practical, consistent, and preparing well for challenges.
We could all learn something from Eastman's illustrations. Have you thought through "what-if" moments? Do you build bite-sized goals for yourself or your team? Take some time this week to develop a few, and use them to chart you path to success one step at a time.
Finally, what clinic do you plan on attending on-line tonight? Like Eastman said, it's all there, it's all free, and waiting for you to sit in your recliner and learn.
Share with me the last really amazing presentation you've seen, and what you've done with it. I'd love to hear your story.
Tags: Chasing Greatness Blog, Contagious Enthusiasm, Doc Rivers, Education, Great for the Business Leader, Hope for the Best But..., Kevin Eastman, Los Angeles Clippers, NBA, Preparation, Subscriptions, Visualize Victory, When All Else Fails, Writing