"Why not you?"—The Immeasurable Heart of Russell Wilson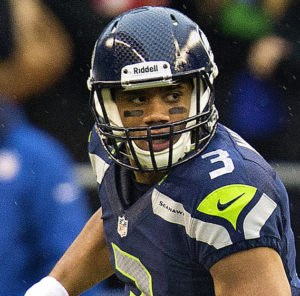 "Why not you?"
These simple words were spoken to Russell Wilson by his father, Harrison, and they would change his life.
Years before his Super Bowl championship with the Seattle Seahawks, Wilson was a high-school senior and multi-sport athlete, torn between a baseball career and football dreams. The Baltimore Orioles had drafted him straight out of high school with a guarantee of a million dollar contract. Deep down, however, Wilson desired to play professional football one day, but there was one issue that every coach and scout had raised: At a little under six feet, he was undersized. It was the same old song he had heard since playing youth football.
His father, who then was struggling with adult-onset diabetes, told him that professional sports could wait. By choosing to go to college instead of to pro baseball, Harrison explained to his son, Wilson would get to play both of his beloved sports as well as gain an education. Wilson promised his father that he would take this path and soon after turning down the Orioles, he enrolled at North Carolina State…and unknowingly began his championship journey to the Seattle Seahawks and the Super Bowl.
In an interview with the New York Times, Wilson commented on his father—who passed away in 2010 from complications with diabetes—and how he still relies on his inspiration today to get through tough circumstances. "He used to always tell me 'Russ, why not you?'" Wilson recalled. "And what that meant was believe in yourself, believe in the talent God has given you even though you are 5-foot-11, and you can go a long way."
Think about that for a moment. "Why not you?" The advice is so simple, practical—and yet so profound. A father says it to a son…and he rides that to the pinnacle of his profession.
"He and my mom gave me my belief," said Wilson in the interview. "I play with my dad in my heart every game because he really taught me about discipline, preparation and how to be an ultimate competitor."
Wilson has lived by the "Why not you?" motto ever since his conversation with his father. He has dedicated himself to the continuous pursuit of Greatness—which is evident in his lifestyle and work ethic. At North Carolina State, Wilson would begin his days at 4:30 a.m., practice for football, go to his classes, attend baseball practice in the afternoons, and then study in the evening. He finished his undergraduate degree in three years and, when he transferred to the University of Wisconsin, drove halfway across the country to get the Badgers' playbook and learn it in less than a month.
He once again encountered criticism about his size during the NFL Draft, and was drafted in the third round (75th overall) by the Seahawks. As he watched quarterbacks Andrew Luck, Robert Griffin III, Ryan Tannehill, and others get selected before him, Wilson refused to be discouraged. Instead, he saw this oversight as another opportunity to prove the naysayers wrong.
When he got his chance, "Why Not You" became the theme.
Now, after three stellar seasons in the NFL, Wilson is attempting to win his second Super Bowl championship, back-to-back…and the critics have all been silenced.
We can all be evaluated by our height, weight, lack of accomplishments, or any other external factors, but heart simply cannot be measured. Some of the Greatest victories in sports history have been won by outmatched underdogs who did not understand the meaning of "quit."
Russell Wilson asks himself all the time, "Why not me?" Have you stopped to consider, why not you? What question drives you the most? Is there something in your life that you'd like to achieve—something that is more meaningful than a million-dollar contract?
If this blog inspired you, please leave me a comment and share it with someone else! Why not?
Tags: Inner Fire, North Carolina State, Not Just About The Benjamins, Russell Wilson, Seattle Seahawks, Super Bowl, University of Wisconsin, Why Not You?