What Do The Best Do Differently
Episode 2

What Do The Best Do Differently?
---
Before they lead others, they lead themselves first.
This Month's Challenge
Examine how you lead yourself. If you ask others to be on time, take this next week and be the FIRST one at the meeting. If you expect others to come to a meeting prepared, ask yourself: what am I doing before the meeting? Do you meet the deadlines you are given by your team? When you demand accountability, accept it yourself.
Complete the PDF worksheet for this episode.
Download PDF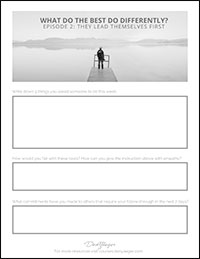 Episode 1

What Do The Best Do Differently?
---
They are careful how they talk… to themselves.
June's Challenge
We spend our entire adult lives telling ourselves that we are not worthy.
If you want to be Great, you must know the most important conversations you will have are the ones you have with YOU.
In moments you want to become hyper critical of your own behavior, visualize the conversation as if it were being had with someone you love, and then use those encouraging words to speak to yourself. That's what the Greats do.