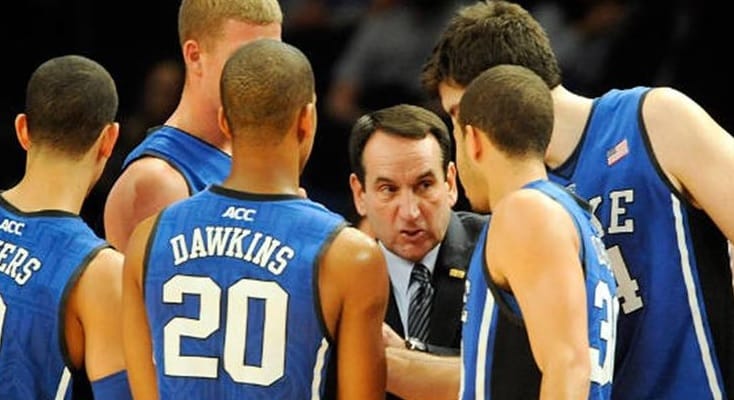 Great Leaders Never Stop Coaching
Great leaders are magnets for praise, respect, and adoration. But the greatest leaders are those who give more praise than they get. Three examples witnessed recently:
Just last month, Duke University's head basketball coach Mike Krzyzewski put his highly touted program on the court against a seemingly inferior and overmatched basketball program from the University of Vermont. While the national audience predicted an easy home victory for Coach K's Blue Devils, the final score was decided by just one point. In fact, a made free throw with five seconds left in the game sealed a 91-90 victory for Duke. Most coaches would've stormed into the locker room and immediately chewed out their team for a poor performance.
Coach K, however, remained on the home court and made a point to grab each member of the opposing team to talk to them about what an exceptional game they played. He shook their hands, looked them in the eyes and let them know their performance pushed his top-rated team to the limit that night. For many on the team, Vermont basketball will be the ceiling of their playing career, but they all have at least a 30-second conversation with a Hall of Fame shoe-in coach that will no doubt be a lifelong memory.
Krzyzewski didn't have to do that, but he felt that coaching wasn't just relegated to his players—he was willing to try to make a difference in other lives as well.
Alabama head football coach Nick Saban – man who has won 3 National Championships in the past 4 years – was featured recently by the CBS program "60 Minutes." During the piece, the reporter followed Saban to the coach's youth football camp. In a moment of candor, the cameras caught Saban teaching the players discipline, respect and how to live like champions. As he was handing each player his certificate for attendance, Saban encouraged the young man to shake hands firmly and look the coach in the eye. The moment will surely be a highlight for many of those young players…and Saban made it a teachable one.
Saban didn't have to do that, but he knew that moment had the potential to spark Greatness in a young mind.
In Manhattan, Kansas, college football revolves around head coach Bill Snyder and the Kansas State University Wildcats. Snyder worked hard to gain legendary status at K-State after spending 22 seasons turning around one of the worst football programs in the country. But his leadership doesn't just take place on the football field in the stadium that bears his name. Instead, Snyder wields considerable off-the-field influence. It blew me away when I learned that Snyder, one of my favorite interviews of the last year, would pin a handwritten note to a coach or player on the other team after each game over these many seasons. Win-or-lose, Snyder would acknowledge the effort and thank them for the competition.
"I appreciate opponents that prepare well and play well and show quality principles and values," he told The Oklahoman. "The letters that I've sent to players over the years — and coaches for that matter — it's just sharing my appreciation for what they do and how they prepared and how they played. Just recognizing what they do."
Snyder didn't have to do that, but he knows that we are all made better by our competition…and he wanted to make sure his competition knew so, too.
The lesson, for me, is that great leaders are always coaching. Sure they coach their team, but they're also coaching people. And they believe that every opportunity they have to impact someone else is an opportunity to be a better coach. Great leaders don't put limits on who or when they coach.
For all of us who want to be Great leaders, are we taking advantage of those moments to lead more than just our team? Are we willing to take opportunities to impact players who may never play for our "team?" Lead the way, visit my Facebook page, and as always, join the discussion today!
Tags: Bill Snyder, Chasing Greatness Blog, Contagious Enthusiasm, Do Unto Others, Duke Blue Devils, Mike Krzyzewski, Nick Saban, Rubbing Elbows, Subscriptions, University of Vermont, When Everyone is Watching, Writing